Thank You For Letting Us Cater Your San Luis Obispo Wedding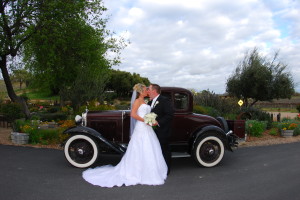 Earlier this year the staff at Chef's Table Catering had the honor of being the caterer for Kelly and Patrick's wedding.
We meet this wonderful couple at the reception site and discussed their wants and needs for their reception and went about planning to make it happen for them.  We were immediately taken by the love between them and their story.
They had chosen the beautiful Still Waters Vineyard to hold both their wedding and reception.
Still Waters Vineyard is a wonderful location for a wedding, boasting beautiful views of the vineyards in both the ceremony and reception sites.  We meet the owner, Paul Hoover, who like a father talking about his favorite child, described the pruning process to us as the Event Coordinator Kasey Helt ran us through the day.  For their other venders they chose Guy Ryder of An Exclusive Engagement to get the crowd moving and Photography by Jimmy De to capture to day.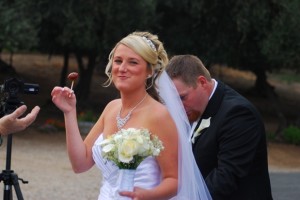 At Chef's Table Catering, we customize our menus to meet the brides and grooms likes and desires.  Patrick and Kelly wanted a fresh and simple menu.  They above all wanted a menu that was comfortable and familiar to their friends and families.  It was important to them that they had a good quality meat for the guests.  Since we at Chef's Table Catering, write our own specifications for our meat,  that was easy.  Kelly really wanted BBQ'd meatballs.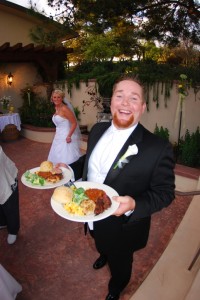 Easy enough done.  Growing up Patrick loved eating corn and really wanted corn for his vegetable he also wanted a little bit of spice so we added some roasted poblano chilis and diced red bell peppers.  They also wanted a Caesers Salad, citrus glazed chicken and our award winning chili.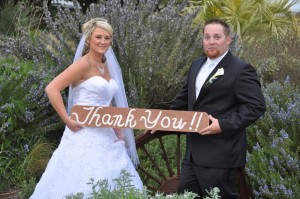 Patrick and Kelly had their dream wedding along with their  perfect menu.
Congratulations Patrick and Kelly
Venue – Still Waters Vineyard
Caterer – Chefs Table Catering
Photography – Photography by Jimmy De
DJ – An Exclusive Engagement