Summer is here……
One of the great things about living here in San Luis Obispo county is our abundance of fresh fruits and vegetables that we have available to us all year long.  That being said, summer is truly my favorite time of year.  The days are longer, the vegetables are more vibrant and the fruits are sweeter.
One of the great items available this time of year to Chef's Table Catering is vine ripened tomatoes.  Flavors so bright and true because they were allowed to ripen the way God intended….. on the vine.  I'm lucky in a way because I know some of the most extraordinary farmers who love their life and put it all into the crops they grow.  Despite the hardships they face, too much rain, not enough rain, too hot, too cold etc. the list is too long and yet they move forward growing some of the most beautiful and great tasting fruits and vegetables in the country. Our brides constantly comment about the great produce Chef's Table Catering serves at their weddings.
One such farmer is Logan Nichols of Peacock Farms who just happens to grow some of the most amazing tomatoes you've ever had.  Bright red in color, sweet and meaty, things that make a great tomato.  Logan grows several varieties with my favorites being Early Girls and Beefsteak.  I'm lucky enough to get the smaller Early Girls for our BLT Sliders one of Chef's Table Catering's most popular appetizers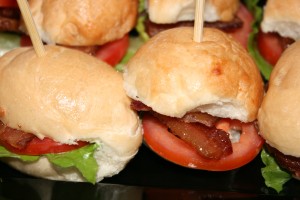 and larger ones for Chef's Table Caterings Rustic Tomato Cucumber Salad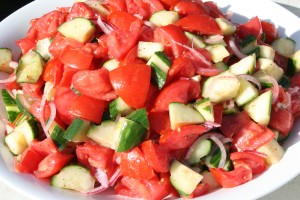 and nothing is better on a big burger than a thick Beefsteak Tomato slice.  Must be time for dinner as my mouth is salivating just thinking about these tomatoes.  I think I'll have some tomatoes for dinner tonight.